Online sextortion usually begins as a normal online conversation. But things quickly escalate into personal sexual conversations. Sextortionists may use flattery, attention bombing, or sympathy to lure their victim into sending them explicit videos or money. Most sextortionists pretend to be young girls, but victims should never send anything live to anyone online. This article provides legal advice for victims of sextortion.
Sextortion is a form of online blackmail
Sextortion is an Internet crime where an anonymous person threatens to release an intimate video or photo of a victim. They demand money or private information from the victim in return. Sometimes, the culprit uses a webcam to gather private information from the victim. If the victim doesn't comply with their demands, they may threaten to harm them. Fortunately, many victims have already found a way to protect themselves.
The first step to protecting yourself is to report the incident to the police. In some cases, the FBI or Internet service providers are involved. If you are worried about being a victim of online  sextortion, you can block the sextortionist by changing your privacy settings on social networking sites. It is also recommended that you do not provide sensitive information in your profile. Lastly, you should never give in to their demands. Sextortion is a type of online blackmail, so the last thing you want is to be a victim.
Sextortion is a serious crime and can be very dangerous. You may be forced to engage with a stranger and be sexually coerced. You may not realize that your responses will only increase the situation. If you respond to the extortionist, he or she will come back with more demands. This is why it's important to remain calm and contact the FBI.
Sextortion is a new form of online blackmail. Although the FBI doesn't break down the number of cases of sextortion, it does state that it is one of the most common forms of online blackmail. The FBI told CNBC that a large number of the complaints are part of a sextortion campaign. Regardless of gender or race, no one is safe from sextortion.
The latest study on this topic reveals that there are more sextortion emails being sent than ever before. Some of the scammers are using pornographic videos and real threats to make their victims pay money. Some of them also ask for bitcoin payments, a currency that has little or no legal regulation. This study will help the authorities in the fight against cyber extortion. So, how can we protect ourselves from sextortion?
Victims are often found on social media sites
Sextortion is a form of cyberbullying that entails the posting of explicit images. Often, the perpetrators will approach the victim on social media sites, such as Facebook or Instagram, and use threats, deception and money to entice them into posting the photos or videos. They may also threaten to harm them or expose their images to the public, which is a particularly powerful tool in gaining a target's trust.
Once they have gained the victim's trust, perpetrators often use social media sites and dating apps to find their victims. They will approach the victim by sending friend requests or likes to their profile. Once the victim's response is positive, the perpetrator will often initiate chat sessions with the victim, gathering personal details and photos of the victim. Eventually, the victim will end up having to pay the perpetrator to stop the harassing activities.
Once a victim's account has been hacked, the perpetrator can use the images and videos stored in the account to target them online. They can even use a victim's contacts if they follow through on their threats. To prevent this, victims should update their passwords every three to six months. Sextortion victims should also set their social media accounts to private or increase the security settings of their accounts.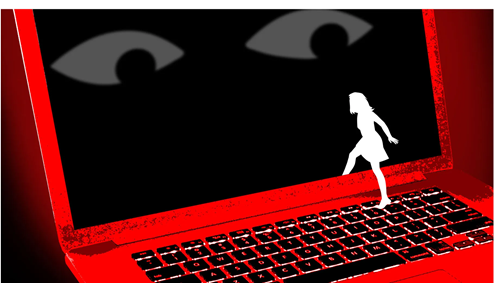 Unlike traditional blackmail, online sextortion is often anonymous and can be difficult to catch. Victims are often unable to report the crimes because they're embarrassed and ashamed. It is also important to be proactive in reporting sextortion cases. The FBI's IC3 website records sextortion complaints. Most victims of this crime reported that they were initially contacted through a dating website or app. Eventually, the perpetrator would try to move the interaction to another social media site.
Sextortionists threaten to release intimate content
A growing number of online sex scams require victims to pay the perpetrator in Bitcoin, an unregulated currency with a high degree of anonymity. But the demand to pay is often a bluff. In a recent live video blog posted by cybersecurity firm Sophos, computer security expert Paul Ducklin warned people to watch out for these scams. The crooks will often promise to release intimate images of the victim online if the victim doesn't pay up.
While it is very tempting to pay the sextortionist to keep your intimate content private, it is crucial that you remain calm. A sextortion victim might be terrified of being "outed" or losing their reputation. As a result, many victims will agree to pay any amount of money to avoid the potential embarrassment and reputational damage of being exposed. For this reason, some sextortionists may threaten to post the content on pornographic websites and YouTube. Some even include the victim's name in the titles of the videos.
Once you've exchanged email addresses, be wary of scammers who promise to post your pictures and videos online. You can protect yourself from these scammers by doing some research before you make any commitments. One way is to perform a reverse image search of the profile photo used by the sextortionist. If the person has more than one profile using the same photo, this could indicate other profiles, websites, or users. If you're not sure, never accept an invite to become friends.
Some of these scammers are sophisticated enough to obtain details about your business or social connections. The aim is to make you afraid of the Internet by threatening to release intimate pictures. You can take steps to protect yourself and protect your reputation by cutting off contact with the sextortionist. In some cases, this might even mean releasing the content yourself. There is no need to risk being the victim of a scam!
A recent ABC7 Denver report highlighted a case of a teenager who was a victim of sextortion. The teenager's mother told the reporter that her child's alleged perpetrator sent her naked photos on Snapchat and threatened to circulate the photos to her boyfriend. The teen didn't file charges, but her mother said the school was doing nothing to protect her child.
Legal advice for victims of online sextortion
If you've been the victim of online sextortion, there are many legal options available. Unlike other forms of harassment, extortionists do not need to meet in person before threatening you. They can use the internet to send you sexually explicit images and messages. However, if you do decide to meet a sextortionist, you should have the appropriate legal advice. The following are some tips for victims.
First, make sure the person is not a stranger. Online sextortionists can pose as strangers or be former significant others. They may use private pictures or videos to lure the victim into paying them ransom. They may also threaten to release intimate photos or videos unless you give them money. If you suspect that someone is committing online sextortion, you should run a reverse image search on the photo of the profile. You'll see other websites and profiles using that photo. If you have a gut feeling that they may be a stranger, do not accept their friend request.
In addition to taking precautionary measures, it is important to remember that everything you do online and on apps can be recorded or hacked. Therefore, you must think before sending explicit photos to anyone. Moreover, you should be very careful about opening any unknown email attachments. You should also remember to turn off your electronic devices whenever you're not using them. These devices might be used to upload more photos of you, which may be used as evidence during litigation.
In addition to offering legal advice to victims, a sextortion campaign has also launched the Gardenia campaign in Syria. This initiative involves a network of volunteer therapists and psychologists to help victims get back on their feet and live normal lives. However, this is not the only non-government initiative in the city of Damascus. Bara Altrn, which is based in Damascus, provides legal advice to victims of online sextortion. It started by putting online legal protections for victims of sextortion on social media two years ago.
Online sextortion can have devastating effects on the victim. To avoid the possibility of becoming a victim, you should make sure to update your profile privacy settings on social networks and keep sensitive information out of sight. Furthermore, you should also be cautious about accepting friend requests from strangers. Further, you should be careful about who you trust online and how much you trust them. You should never send anything to anyone you don't know.